How We G
o
t Started
Hi, I am Mary and I am a li'l Sump' n Southern. Growing up in Mississippi I learned how to cook at a young age! One of my most favorite memories and breakfast dishes is gravy & biscuits. Not just any gravy, but tomato gravy! One of my uncles renamed tomato gravy "May-ry gravy" because of me!
When I was a little girl my family always had gardens. We grew tomatoes and canned them for the winter months. Needless to say, tomatoes were a staple in our kitchen. Throughout the year, we would put the tomatoes in soups, sauces and gravy. Over the years I have made this gravy for friends and family!
So, you may ask how in the world did I come up with this idea? It all started with "my person, Denise". A very dear friend that my husband and I met when we lived in Reno, Nevada, and she absolutely loves this gravy.
In the summer of 2015, while Denise and her family were visiting us in Murphy, Texas, one morning for breakfast I fixed tomato gravy and biscuits. Denise said "you need to figure out how to package this and sell it!" I'm like…"What??....everybody knows how to make gravy....!"
So my husband and I thought about it and thought about it and we were like why not? Let's share this taste of the South with everyone and call it "a lil Sump'n Southern". So my wonderful, creative husband took our Southern heritage and my love of wearing the Southern hats and designed our logo!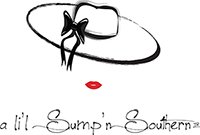 We hope y'all enjoy a li'l taste of the South and remember, 'y'all eat!'
Jeremiah 29:11 "For I know the plans I have for you," declares the Lord, "plans to prosper you and not to harm you, plans to give you hope and a future."